The WarpPortal Team will be making an appearance , this Friday June 29th at this year's Anime Expo in Downtown Los Angeles, CA!  So come join the WarpPortal team for a mini Question and Answer session, and check out all the other WarpPortal and Ragnarok players! We'll be handing out free stuff and taking lots of pictures, so this would be a great time to showoff your best COSPLAY of your favorite WarpPortal game (or i guess anime characters work too)! So come by and join, us between on Friday, June 29th 4pm-5pm PDT, we'll be at the area marked below with a star. Best part, is we'll be outside the convention hall, so its absolutely FREE!
About Anime Expo:
Held annually in Los Angeles, Anime Expo is North America's largest anime and manga celebration. Anime Expo™ gives fans the rare opportunity to meet and hear from some of the most famous anime, manga and musical artists from Japan and get into the action through everything from costume play, karaoke and video competitions to exclusive screenings, non-stop video gaming competitions and the wildly popular Masquerade, in which fans transform themselves into their favorite characters through creative costuming, accessories and make-up and put on their own show before an audience of thousands. AX™ 2012 will be held June 29 – July 2, 2012 at the Los Angeles Convention Center.
Anime Expo Location:
Los Angeles Convention Center
1201 South Figueroa Street
WarpPortal/Ragnarok Online Gathering:
4pm-5pm PDT at location marked with a gold star below. Look for the guys in the Black WarpPortal T-Shirts!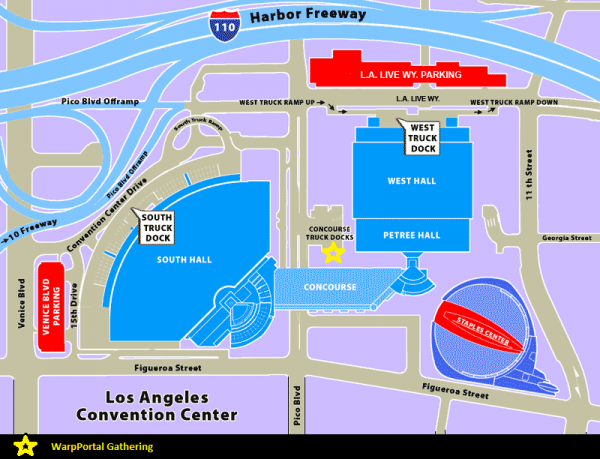 WarpPortal Picnic July 2nd
Do you live in the LA area or sticking around LA after Anime Expo?  Drop by the WarpPortal Picnic in Marina Del Rey on Monday July 2nd: More details here!