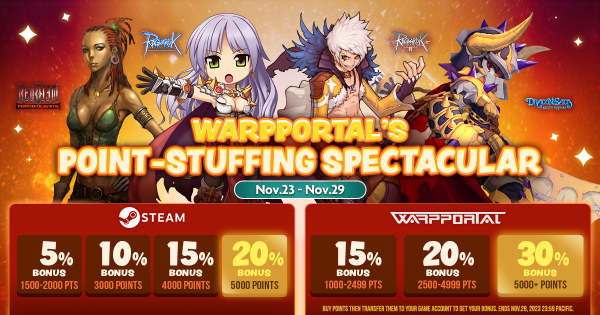 ---
Get ready to stuff your gaming experience full of bonuses with WarpPortal's Point-Stuffing Spectacular!
November 23rd to 29th: Level up your points purchases!
For Steam users, it's a chance to score big with up to a sensational 20% extra points when you buy 5000 points.
And for our dedicated WarpPortal players, prepare for a truly spectacular offer—snag up to an incredible 30% bonus when you grab 5000 points or more.
Eligible games include:
Buy more, get more!
This event is your ticket to stuffing your gameplay with amazing bonuses!
Make sure to transfer points to your game account for your bonus!

Don't miss out on WarpPortal's Point-Stuffing Spectacular!
Get your bonus points during the event! Ends November 29th

If you have any additional questions or concerns, please contact us through our official social media or submit a ticket through the WarpPortal Help Page.